FLORAKIDS
florakids from LAUFEN is imaginative, colourful and playful – a bathroom that children are sure to enjoy. The centrepiece of florakids is a washstand with a basin in the shape of a flower blossom, available in white, red or green. In kindergartens, several washbasins can be lined up in a series to create plenty of space to put things. To complement the washbasin, you can add ceramic shelves, shaped like little clouds in matching colours. Mirrors are available in red mirror flower, or green mirror caterpillar designs and consist of separate mirror elements that can be lined up in series.
"The florakids WCs, designed especially for children, have no sharp edges or corners. WC seats, designed perfectly for children, are available in white, red or green. All seats have a mini back support and are small in diameter, so children are not afraid of falling in. The ergonomic seat also lets kids who are potty training grasp onto the ears on the left and right of the seat. Thanks to the innovative Ecototal cartridge, a handy single-lever mixer for the washbasin is easy-to-use, hygienic, saves water and reduces the risk of scalding. The powder-coated lever in red or green makes it easy for children's hands to grasp and operate the washbasin."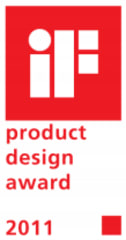 ANDREAS DIMITRIADIS
"With the florakids line, Laufen has succeeded in creating an upbeat, lively, child-friendly environment that fosters a sense of hygiene at an early age. The rounded, attractive shapes are combined with bold colours and inspirations from animal and plant kingdoms. As a result, the bathroom is an ideal place for kindergarten kids to play and enjoy escaping to imaginary worlds in. Children can relate to the product family on an emotional level and in terms of function and size it ticks all the boxes too. This bathroom is tailor made just for children".